BLOG
Subscribe to posts
Pap Pap Goes to Paris
will travel to Chattanooga Mercantile in Eastridge on Saturday, March 2, at 1 p.m. I hope you will join me at this charming store that carries a great selection of children's books. I'll be reading the story and signing copies as well.  All are welcome!
After a whirlwind early autumn of book events, things are now settling down a bit, and I have time to share a bit. First, my picture book is now carried at a new amazing book store at Chattanooga Mercantile, Happy Little Book Garden and More.  This store is in East Ridge not far from I-75. Next year, I'll plan to have a reading there.
Gift store Seed Goods, down by Coolidge Park in Chattanooga, now carries all of my books.  This store features a diverse collection of gifts.
If you are in the area, please check out both these stores to see my books and all the other possible gifts they offer for the upcoming holidays.
For those in the Ootlewah area, please come see me on Saturday, November 17 at 10 a.m. to noon at the gift store Cottage Treasures. I'll be signing books there as part of their open house.
On Saturday, December 8, I'll be at Grace Episcopal with artist Lyn Martin at a holiday market event. We'll have copies of Pap Pap Goes to Paris and my other grown-up books, too. Lyn will bring some of her art work. 
If you can't come to these events and want a Pap Pap Goes to Paris book, they are also now at Dogwood Books in Rome, GA, Michael's  Fine Arts in Dalton, GA, Starline Books in Chattanooga, Vintage Gathering in Ringgold, GA, Chaucer's in Santa Barbara, CA, and available through Barnes and Noble or Amazon.com
I hope to see you at one of my events, but if I don't, please have blessed holidays and drive safely. 
Friday, September 21, Reading at Woodstation Elementary School to primary grades.
Saturday and Sunday, October 13 and 14, Signing books at Prater's Mill along with author Mike Ragland of Rome, GA.
Friday, October 19, 5 -8 p.m., Signing books with artist Lyn Martin, at Michael's Fine Art and Frames in Dalton, GA.
Sunday, October 21, Book talk on my short story collection,
Mothers, Sons, Beloveds, and Other Strangers
, at
Collegedale Library
. 
Saturday, October 27, Rome, GA, Chiaha Festival. Signing books.
Star Line Books, Chattanooga, TN, Saturday, August 25, 11 a.m. I'll be reading from 
Pap Pap Goes to Paris, and so does Ricky. 
Decatur Book Festival, Decatur, GA, Saturday and Sunday, September 1 and 2, 12 noon to 2 p.m. I'll be at Booth 621 in the Children's area along Sycamore Street and near the Decatur Public Library signing copies of Pap Pap Goes to Paris, and so does Ricky. Look for the booth marked "SCBWI" (Society of Children's Book Writers and Illustrators.  
I hope to see you at one of my events!
For those who cannot make it, this book is carried in several places. Star Line Books in Chattanooga, Vintage Gathering in Ringgold, GA, Chaucer's Books in Santa Barbara, CA and also is available online at barnesandnoble.com and amazon.com.
Merci beaucoup to all my reader friends who have come out to our many book signings since the book was released May 3, 2018. If you enjoyed the story, please post your review on Goodreads.com or at Amazon.com or Barnesandnoble.com.
We have enjoyed meeting readers at Vintage Gathering, The Chattanooga Readers and Writers Fair, and at Barnes and Noble in Chattanooga. Next up: Star Line Book Store reading on Saturday morning, August 25. 

Marissa Frosch of Amphibian Press interviews me about my journey as a writer. I talk about inspiration, the process, marketing, novels, short stories, and non-fiction works. Grab a cool drink and enjoy!

Pap Pap and Ricky will travel to Chattanooga's Barnes and Noble on 
Bastille Day, Saturday, July 14 from noon till 2 p.m. Artist Lyn Martin has created some coloring pages to share with the children who attend. Looking forward to seeing you there!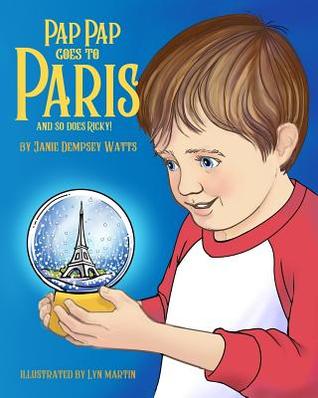 Released May 03 2018
This giveaway has not started.
Starts in 1 day.
Enter Giveaway
Did you ever wish you could jump on a plane and travel to Paris for a few days? So does Ricky, five. Seeing his grandfather's snow globe of the Eiffel Tower, he decides he should accompany his Pap Pap on a brief trip to France. Together, they fly to Paris and experience everything from cobblestones to croissants to Parisians adoring their little dogs. A sightseeing cruise on the Seine takes them to the highlight of the trip, the Eiffel Tower.  There, Ricky and Pap Pap work together to conquer  almost 700 stairs. Ricky learns the power of persistence and the importance of spending time with family.
This charming story is illustrated in bright colors by artist Lyn Martin, who has her work featured in some 35 books. 
Inspired by my grandson's desire to see the Eiffel Tower, I wrote this book, so he could "visit."  I hope you will enjoy the journey there as much as I have enjoyed creating this story. 
Now available at barnesandnoble.com and amazon.com, and at independent bookstores by special order.
Mothers, Sons, Beloveds, and Other Strangers
(2017, Bold Horses Press) is now available. If you are in the Ringgold-Chattanooga area, please join me on Sunday, June 4, 2-4 p.m. at Vintage Gathering for my book signing, or at Hamilton Place Mall Barnes and Noble on Saturday, June 10, 2-4 p.m. 
To learn more, please visit amazon.com, and click on "Janie Dempsey Watts."